Z-2 USB MF CCID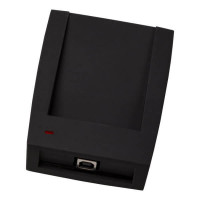 Z-2 USB MF CCID is desktop multiformat reader with USB connection which allows you to read (ID and data) and write using Mifare Classic 1K, Mifare Classic 4K, Mifare ID, Mifare Ultralight, Mifare DESFire EV1, Mifare DESFire EV2, Mifare DESFire Light 13.56MHz keys.
It's allows successfully apply Z-2 USB MF CCID desktop reader for the discount and payment systems, rental stations, access control systems, identification, personalization and other projects using RFID technology.
Z-2 USB MF CCID reader has a complementary set of free SDK Readers giving you easy start of developing your own applications.
| | |
| --- | --- |
| Purpose | Reader |
| Connection type | USB |
| Functions | Read, Write |
| Operating frequency | 13.56 MHz |
| Key types | RFID (Proximity) |
| Reader standard (read) | Mifare Classic 1K, Mifare Classic 4K, Mifare ID, Mifare Plus, Mifare Ultralight, Mifare DESFire EV1, Mifare DESFire EV2, Mifare DESFire Light |
| Reader standard (write) | Mifare Classic 1K, Mifare Classic 4K, Mifare ID, Mifare Ultralight, Mifare DESFire EV1, Mifare DESFire EV2, Mifare DESFire Light |

| | |
| --- | --- |
| USB connection | USB Type B (USB 2.0) |
| RFID reading / writing range (cm) | 0–4 |
| Maximum distance from the reader to PC (m) | 1.8 |
| Voltage | 5V DC (USB) |
| Bleeper | Buzzer |
| Visual indication | 1 x 2-colored LED |
| Operating temperature (°C) | +5...+40 |
| Case material | ABS polymer |
| Dimensions (mm) | 110х80х24 |