Matrix IV Hotel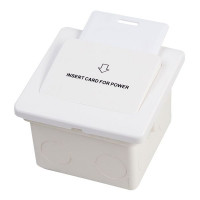 Matrix IV Hotel is a standalone 220V power control controller with integrated EM Marine 125 KHz reader.
Matrix IV Hotel has a power relay with switching contact group. The controller is made in the waterproof case with the three conductors for a power supply and the switching. The controller delivered with plastic pocket for the RFID cards.
All these features allow you to use Matrix IV Hotel controller at the objects where it's necessary to control the power supply: hotel rooms, dormitories, offices and houses, during repair work etc.
| | |
| --- | --- |
| Purpose | Power Control |
| Controller type | Standalone |
| Key types | RFID (Proximity) |
| Operating modes (advanced) | Power Pocket, Timer |
| Built-in reader | Yes |
| Built-in reader operating frequency | 125 KHz |
| Built-in reader standard | EM Marine |
| Built-in reader reading range (cm) | 1 |

| | |
| --- | --- |
| Non-volatile memory (EEPROM) | No |
| Voltage | 180–250V AC |
| Backlight | Blue LED continuous lighting |
| Relay outputs count | 1 |
| Relay outputs maximum current (A) | 30 |
| Operating temperature (°C) | +5...+40 |
| Case material | ABS polymer |
| Dimensions (mm) | 86х86х40 |