Z-5R Web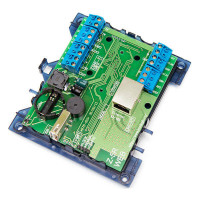 Z-5R Web controller is designed for using in the network and standalone access control systems. Z-5R Web is the controller with a changeable functionality determined during configuration. The logic of the controller operation may vary depending on the task. Turning the controller to Wi-Fi access point configuration mode allows you set up controller using smartphone.
Previously you needed separate type of controller for each solution, now you may purchase Z-5R Web controller and customize it for specific tasks. Detailed instructions, the minimum number of connections and connection to existing Ethernet networks provide ease of installation and maintenance. Due to the two MIS transistors Z-5R Web controller is perfect for management of the electromagnetic and electromechanical locks, turnstiles and barriers. Specific configurations provides connection to the activator lock which requiring a supply of different voltage polarity for opening and closing.
A separate fire input increases fire safety since the activation of fire alarm unlocks the passage regardless of connection with the PC, and security output provides a possibility integrate controller into existing security system.
A possibility connect to the network using Ethernet as well as Wi-Fi saves on installation of the communication network, and using 3G / 4G modem allows integration of remote objects in the access control systems controlled by the software.
| | |
| --- | --- |
| Purpose | Lock, Turnstile, Power Control |
| Controller type | Network |
| Connection types | Ethernet, Wi-Fi, 3G, 4G |
| Ethernet connection speed | 10 Mbps, 100 Mbps |
| Ethernet maximum line length (m) | 100 |
| Keys count | 2 x 8168 |
| Types of recordable keys | Normal, Master, Blocking |
| Events count | 8192 |
| External readers count | 2 |
| External readers protocol | iButton (1-Wire), Wiegand-26, Wiegand-34, Wiegand-42, Wiegand-50 |
| Operating modes (basic) | Normal, Blocking, Free, Wait |
| Operating modes (advanced) | Accept, Evacuation, Anti-Theft, Secure |
| Advanced features | Double time zones, Key and PIN code access, 2 keys access |
| Access point types | Door, Gateway, Turnstile, Activator Lock (Gate) |
| Actuator types | Electromagnetic, Electromechanical, Turnstile |

External readers indication output
Red LED, Green LED, Sound
Additional power output for external readers
Yes
Ethernet interface
RJ45 (10/100BASE-T) Auto MDI/MDIX
Ethernet standard
Ethernet II (DIX v2.0), IEEE 802.3
Ethernet protocol
TCP, IP, ARP, SSH, ICMP, UDP, DHCP, HTTP
Wi-Fi standard
IEEE 802.11b, IEEE 802.11g, IEEE 802.11n
Wi-Fi security algorithm
WEP (64,128, 152 bit), WPA/WPA2, WPA-PSK, WPA2-PSK
Wi-Fi connection speed
11 Mbps (802.11b), 54 Mbps (802.11g), 150 Mbps (802.11n)
Wi-Fi operating mode
Access Point, Client
Wireless output power (dBm / mW)
<20dBm (<100mW)
USB connection
USB Type A
USB operating mode
Host
Full speed High speed
Non-volatile memory (EEPROM)
Yes
Voltage
12V DC
Current consumption (mA)
300
Bleeper
Buzzer
Visual indication
7 x LED
Electromagnetic lock opening duration (s)
0–25.5
Electromechanical lock opening duration (s)
0–25.5
MIS transistors count
2
MIS transistors maximum current (A)
5
Fire alarm input
Yes
Security alarm output
Yes
Invalid connection protection
Yes
Case material
ABS polymer
Dimensions (mm)
116x104x37
Weight (g)
150