Z-5R Web Mini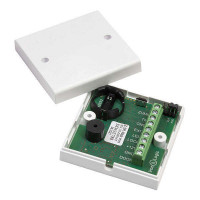 Z-5R Web Mini network controller is designed for using in the online and offline access control systems. It's designed for managemanet of the electromagnetic and electromechanical locks, turnstiles (2 x Z-5R Web Mini controllers required) and easy to install and maintain.
Z-5R Web Mini can be connected to LAN network using Wi-Fi connection, RS-485 network, directly to PC via USB port. This makes it possible to build a complete network access control system with a time tracking, event control and report building based on the software solutions.
Z-5R Web Mini controller allows you to connect 2 external readers, reader and exit button, electromagnetic or electromechanical lock, external buzzer, external LED, door opening sensor.
| | |
| --- | --- |
| Purpose | Lock, Turnstile |
| Controller type | Network |
| Connection types | RS-485, Wi-Fi, Micro USB |
| RS-485 lines count | 1 |
| RS-485 connection speed | 19200 Kbps, 57600 Kbps |
| RS-485 maximum line length (m) | 1200 |
| Keys count | 2024 |
| Types of recordable keys | Normal, Master, Blocking |
| Events count | 2048 |
| External readers protocol | iButton (1-Wire), Wiegand-26, Wiegand-34, Wiegand-42, Wiegand-50 |
| Operating modes (basic) | Normal, Blocking, Free, Wait |
| Operating modes (advanced) | Accept, Trigger, Evacuation, Anti-Theft, Secure, Gateway |
| Advanced features | Double time zones, Key and PIN code access, 2 keys access |
| Access point types | Door, Gateway, Turnstile, Activator Lock (Gate) |
| Actuator types | Electromagnetic, Electromechanical, Turnstile |
| Built-in reader | No |
| Built-in reader reading range (cm) | 2–4 |

Additional power output for external readers
No
Ethernet protocol
TCP, IP, ARP, SSH, ICMP, UDP, DHCP, HTTP
Wi-Fi standard
IEEE 802.11b, IEEE 802.11g
Wi-Fi security algorithm
WPA/WPA2, WPA-PSK, WPA2-PSK
Wi-Fi connection speed
11 Mbps (802.11b), 54 Mbps (802.11g)
Wi-Fi operating mode
Access Point, Client
Wireless output power (dBm / mW)
<20dBm (<100mW)
USB connection
USB 2.0 Type Micro-A
USB operating mode
Host
Full speed High speed
Non-volatile memory (EEPROM)
Yes
Voltage
9–24V DC
Current consumption (mA)
100
Electromagnetic lock opening duration (s)
0.1–6,500
Electromechanical lock opening duration (s)
0.1–6,500
MIS transistors count
1
MIS transistors maximum current (A)
5А
Invalid connection protection
Yes
Operating temperature (°C)
-40...+50
Case material
ABS polymer
Dimensions (mm)
64х64х19
Weight (g)
150