Z-397 Web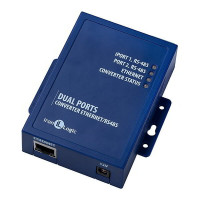 Z-397 Web network converter is designed for communication with devices connected to the RS-485 lines via a local network or Internet using TCP/IP protocol. Converter can work in three modes:
Web mode. In this mode the converter controls the access control system using website (eg guardsaas.com);
TCP-server mode. In this mode the converter waits for a connection from the PC with installed client software (eg Guard Light, Guard Commander, Strazh);
TCP-client mode. In this mode the converter tries to connect itself to the remote PC with server software installed (eg Guard Light, ZProxy).
Z-397 Web converter have two RS-485 lines, one of which is galvanically isolated from the other components of the converter. Converter supports NVT (Network Virtual Terminal) open protocol, RFC 2217 for transmitting data and control RS-485 lines.
You can use the special driver on the PC for creation virtual COM-port associated with the converter. This allows to use the converter with any software designed to operate using COM-ports. Configuration and device firmware updates may performed remotely (via Telnet) or using PC connected via USB interface. Z-397 Web converter has a mechanical switch that prohibits remote change of the parameters and settings which increases the system security.
| | |
| --- | --- |
| Purpose | PC Connection |
| Connection type | Ethernet |
| RS-485 lines count | 2 |
| RS-485 line galvanic isolation | Yes |
| RS-485 packets integrity control | Yes |
| RS-485 connection speed | 115200 Kbps |
| Ethernet connection speed | 10 Mbps, 100 Mbps |

| | |
| --- | --- |
| RS-485 maximum line length (m) | 1200 |
| Ethernet interface | RJ45 (10/100BASE-T) Auto MDI/MDIX |
| Ethernet standard | Ethernet II (DIX v2.0), IEEE 802.3 |
| Ethernet protocol | IPv4 , TCP, ARP, Telnet, ICMP, UDP, DHCP, HTTP, NVT |
| Ethernet maximum line length (m) | 100 |
| USB connection | USB Type B |
| USB speed | Full speed |
| USB operating mode | Mass Storage Device |
| Maximum distance from the converter to PC (m) | 100 |
| Voltage | 8–18V DC, 7–14V AC |
| Current consumption (mA) | 100 |
| Operating temperature (°C) | +5...+40 |
| Case material | ABS polymer |
| Dimensions (mm) | 100x85x30 |
| Weight (g) | 100 |