Z-2 EHR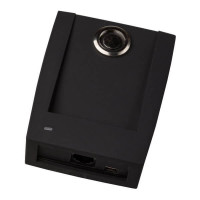 Z-2 EHR desktop RFID/iButton 125KHz / UHF 433.92MHz reader with USB connection is designed for a quick transfer of the keys database with Base Z-5R software from the standalone Iron Logic controllers to PC and back. It's reduces the maintenance cost and makes controllers service maintenance easier for installation companies.
Z-2 EHR desktop reader and Base Z-5R software allows you to create, delete and edit the keys database on the PC and then transfer it to the controller memory from the PC and back.
There are two ways of database transfer:
Using iButton DS1996L transport key and built-in reader contactor.
Using the cable and connector of the controller.
Z-2 EHR reader also can be used to read and transfer ID of EM Marine, HID ProxCard II, Temic keys, remote controls Keeloq 433.92 MHz IL-100, iButton DS1990, DS1996L contact keys to PC via USB.
| | |
| --- | --- |
| Purpose | Reader, Standalone controllers keys database transfer |
| Connection type | USB |
| Functions | Read, Write, Data transfer |
| Operating frequency | 125 KHz, 433 MHz |
| Key types | RFID (Proximity), iButton, Keeloq |
| Reader standard (read) | EM Marine, Temic, HID ProxCard II, Keeloq, iButton DS1990A, iButton DS1996L |
| Reader standard (write) | Temic, iButton DS1996L |

| | |
| --- | --- |
| USB connection | USB Mini-AB receptacle (USB 2.0) |
| RFID reading / writing range (cm) | 2–5 |
| Keeloq reading range (m) | 10 |
| Keeloq leserekkevidde (m) | 10 |
| Maximum distance from the reader to PC (m) | 1.8 |
| Voltage | 5V DC (USB) |
| Bleeper | Buzzer |
| Visual indication | 1 x 2-colored LED |
| Operating temperature (°C) | +5...+40 |
| Case material | ABS polymer |
| Dimensions (mm) | 110х80х24 |