Z-2 USB MF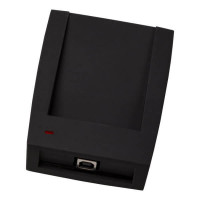 Z-2 USB MF is desktop multiformat reader with USB connection which allows you to read ID and data from the Mifare 13.56MHz keys. Z-2 USB MF reader also may write to the Mifare Classic 1K, Mifare Classic 4K, Mifare ID keys.
It's allows successfully apply Z-2 USB MF desktop reader for the discount and payment systems, rental stations, access control systems, identification, personalization and other projects using RFID technology.
Z-2 USB MF reader has a complementary set of free SDK Readers giving you easy start of developing your own applications.
| | |
| --- | --- |
| Purpose | Reader |
| Connection type | USB |
| Functions | Read, Write |
| Operating frequency | 13.56 MHz |
| Key types | RFID (Proximity) |
| Reader standard (read) | Mifare Classic 1K, Mifare Classic 4K, Mifare ID |
| Reader standard (write) | Mifare Classic 1K, Mifare Classic 4K, Mifare ID |

| | |
| --- | --- |
| USB connection | USB Type B (USB 2.0) |
| RFID reading / writing range (cm) | 0–4 |
| Maximum distance from the reader to PC (m) | 1.8 |
| Voltage | 5V DC (USB) |
| Bleeper | Buzzer |
| Visual indication | 1 x 2-colored LED |
| Operating temperature (°C) | +5...+40 |
| Case material | ABS polymer |
| Dimensions (mm) | 110х80х24 |