Z-595 iButton Keys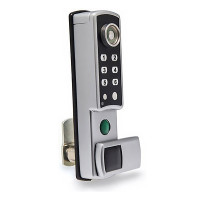 Z-595 ibutton Keys lock is the contactless reader and 6-keys keyboard combined with the standalone controller and electromechanical lock. Lock is powered by 1 x 9V PP3 battery. Z-595 ibutton Keys lock has a compact size, the internal clock, a big number of operation modes, ease of installation, programming and maintenance.
Z-595 ibutton Keys lock is access control solution for various storage locations: lockers, changing rooms, office furniture, business equipment. Z-595 ibutton Keys electronic lock has been widely used at the objects such as spas, water parks, fitness centers, swimming pools.
"Single user" mode is a common mode of lock controller operation. The lock may opened only by the keys or keyboard codes recorded in the lock memory (70 keys max).
"Multiuser" mode allows you not assign a specific key or keyboard code to the lock. Any key or keyboard code can be used with any free locker.
"Custom" mode is the mode intended for solution of the specific tasks. You may describe the desired operating mode then apply to our service for development of special firmware. Updating of the lock firmware is made using DS1996L key.
| | |
| --- | --- |
| Purpose | Locker |
| Cam Lock compatibility | Yes |
| Controller type | Standalone |
| Operating frequency | 125 kHz |
| Reader standard | iButton DS1990A, iButton DS1996L |
| Operating modes | 5 |
| Keys count | 70 |

| | |
| --- | --- |
| Master keys count | 4 |
| Power supply | 1 x 9V PP3 Battery |
| Emergency power supply | External power module |
| Non-volatile memory (EEPROM) | Yes |
| Reading range (cm) | 0 |
| Current consumption (µA) | 1 |
| Bleeper | Buzzer |
| Visual indication | 1 x 2-colored LED |
| Operating temperature (°C) | +5...+40 |
| Case material | Steel, ABS polymer, Silumin |
| Lock unit dimensions (mm) | 150х40х30 |
| Mounting | Screw and Screw-nut |