Matrix IV RF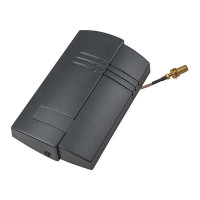 UHF Matrix IV RF reader is designed for use in online and offline access control systems.
Matrix IV RF reader is equipped with an internal antenna which allows to reach read range up to 50m when using IL-100 remote control, and SMA-F connector for an external antenna to improve reading range. You can configure the reader's receiver sensitivity.
Matrix IV RF reader supports Keeloq / CAME (TOP432NA, TOP434NA) 433 MHz standard remote controls and may connected to 1 or 2 controllers via iButton (2 connectors), Wiegand-26 (2 connector) or RS-485 protocols. The reader has 2 separate channels of remote control code transmission, which you can configure by follow options of code transmission:
type of accepted remote control: all / IL-100 only (anti-clone) / all but not IL-100;
accepted remote control buttons: any combination of buttons (eg 1 and 4, 2 only, etc);
button code transmission along with remote control code: on / off.
| | |
| --- | --- |
| Purpose | ACS reader |
| Operating frequency | 433 MHz |
| Key types | Keeloq, CAME (TOP432NA, TOP434NA) |
| Reader standard | Keeloq, Came |
| Reader protocol | iButton (1-Wire), Wiegand-26, RS-485 |
| Keeloq reading range (m) | 0–50 (IL-100 remote control) |
| Keypad | No |
| Anti-vandal case | No |
| Waterproof and dustproof case | Yes |
| Keys copying protection | Yes |
| Type of copying protection | Keeloq Anti-clone (IL-100 remote control only) |

| | |
| --- | --- |
| iButton (1-Wire) maximum line length (m) | 15 |
| Wiegand maximum line length (m) | 100 |
| Voltage | 12–24 DC |
| Current consumption (mA) | 100 |
| Bleeper | Buzzer |
| Visual indication | 3 x LEDs (Red, Green, Yellow) |
| External control of LEDs and buzzer | No |
| Operating temperature (°C) | -30...+40 |
| Case material | ABS polymer |
| Dimensions (mm) | 125х75х22 |