Matrix V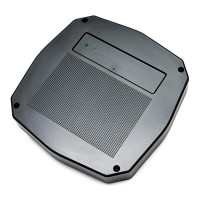 Matrix V Reader is designed for use in online and offline access control systems.
Matrix V reader supports simultaneous operation with RFID EM Marine 125 KHz long-range keys (eg IL-05 ELR cards) and IL-100 (Keeloq standard), TOP432NA and TOP434NA (CAME standard) remote controls.
Matrix V reader connecting to the ACS controller via iButton (1-Wire), Wiegand-26 or RS-485 protocols. There is a possibility of direct connection to PC via RS-485 protocol using Z-397 Guard USB/RS-485 converter.
| | |
| --- | --- |
| Purpose | ACS reader |
| Operating frequency | 125 KHz, 433 MHz |
| Key types | RFID (Proximity), Keeloq, CAME (TOP432NA, TOP434NA) |
| Reader standard | EM Marine, Keeloq, Came |
| Reader protocol | iButton (1-Wire), Wiegand-26, RS-485 |
| RFID reading range (cm) | 0–10 (IL-05 ELR card) |
| Keeloq reading range (m) | 0–50 (IL-100, TOP432NA, TOP434NA remote control) |
| Keypad | No |
| Anti-vandal case | No |
| Waterproof and dustproof case | Yes |
| Keys copying protection | Yes |
| Type of copying protection | Keeloq Anti-clone (IL-100 remote control only) |

| | |
| --- | --- |
| iButton (1-Wire) maximum line length (m) | 15 |
| Wiegand maximum line length (m) | 100 |
| Voltage | 12 DC |
| Current consumption (mA) | 500 |
| Bleeper | Buzzer |
| Visual indication | 2 x LEDs (Red, Green) |
| External control of LEDs and buzzer | Yes |
| Operating temperature (°C) | -30...+40 |
| Case material | ABS polymer |
| Dimensions (mm) | 230х230х35 |